Running a business is not for the faint of heart – entrepreneurship comes with a lot of risks. Successful business owners are those who have the ability to mitigate a company's financial risks while simultaneously improving their services and bringing new products to constantly meet the demands of consumers.
According to the Small Business Administration (SBA) , 20% of the small businesses fail in the first year of their setup, 50% go bankrupt in the next five years and only 33% make it to a decade or longer. So, while there are a number of small businesses in various industries that perform well, almost 70% of the businesses collapse at the early stage itself.
To safeguard your newly started business from severe consequences, it is imperative to understand what are the common reasons that lead to business failure and how each obstacle can be avoided.
Let's understand the most common reason why small businesses fail and how each obstacle can be managed or prevented –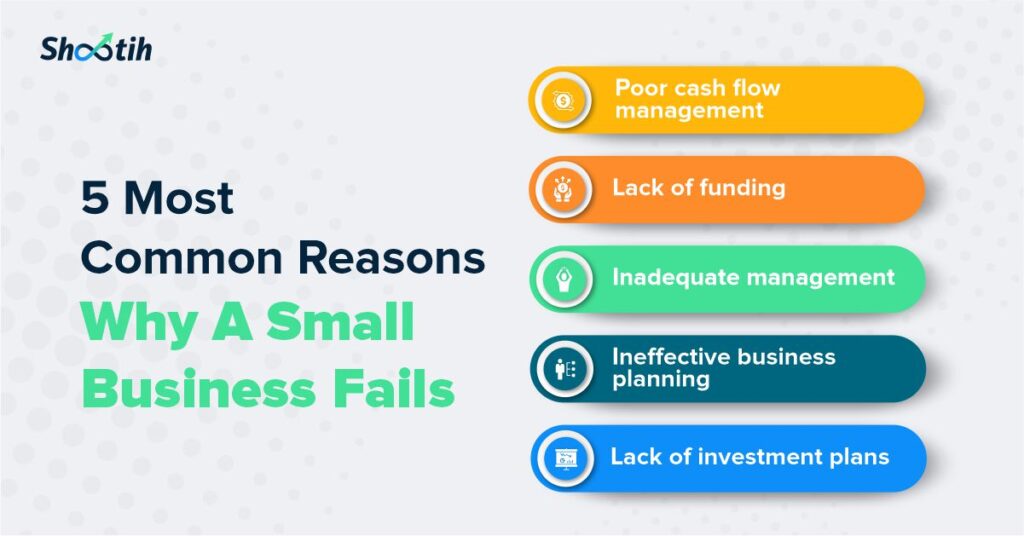 Poor cash flow management –
You might have heard several times that cash is the lifeblood of any business, and it is an undeniable fact. Cash management encompasses how the business manages its business activities during various financing activities and financial investments
Poor cash flow management can cause any business to collapse. A business needs to generate adequate cash flow in order to run smoothly, cover the expenses, expand the business and repay investors. In addition to having positive cash flow, the business also needs to have sufficient funds to meet immediate needs and keep the business running.
While small business owners have too many hats to wear such as management, recruitment, inventory management, operations, business development and more, it is hard for them to keep tabs on their cash flow pattern. Moreover, having a CFO or CA to monitor cash flow also becomes infeasible due to budget constraints.
If you are also one of those business owners who is still relying on multiple spreadsheets to keep track of cash flow, then upgrade your cash flow management processes with Shootih. Shootih is business wealth management software that provides you with a consolidated and aggregated view of all your business transactions on a single screen. You can add multiple accounts to Shootih and monitor your revenue cash flow with just a few tabs. This also keeps you with your upcoming expenses and helps you prepare for them.
Lack of funding:
Another common reason why small businesses fail is the lack of working capital or funds. In most cases, business owners are mindful of the capital required to keep operations running on a daily basis, including expenses such as rent, utilities and salaries, funding payroll and buying new inventory. However, owners of failing businesses are less in tune with the revenue generated by selling products or services. This lack of awareness leads to a shortfall of working capital and can cause the operation of small businesses to cease.
A second reason why businesses suffer from a lack of working capital is they miss the mark on pricing services and products. To beat the competition in a highly crowded marketplace, businesses price their products or services lower than other similar offerings in the market. While the strategy is successful in some cases, businesses that keep their prices too low for a longer duration end up closing their doors permanently.
Here, again monitoring cash flow patterns plays an important role in overcoming the shortage of working capital. Keeping track of cash flows keeps you in tune with the revenue generated and expenses incurred. Also, to manage common finance hurdles, business owners need to establish a realistic budget for consistent operations. It is also imperative to consider investment options to gain returns from idle sitting cash. With a 2 fold increase in the mutual fund industry's AUM in the span of 5 years, investments in mutual funds have become one of the preferred options for corporates to generate revenue from their idle cash.
Inadequate management:
Lack of business acumen on the part of the business owner or management team is also one of the common reasons for small business failure. In some cases, the business owner is the only senior person in the company during its initial stage.
While the owner might have skills to create a viable product, they might not have marketing attributes or the skills of managing employees or handling the finances. Without a dedicated management and marketing team, a business owner has great potential to mismanage aspects like hiring and marketing. Similarly, with a lack of finance knowledge, entrepreneurs face various challenges in small business wealth management.
Outsourcing recruitment and marketing solutions are the feasible and affordable option for small business owners as it saves their money and crucial time which gets wasted in handling jobs they are not good at. Moreover, there are tools like Shootih which brings all the crucial aspects of small business wealth management, including cash flow tracking, AI-based investment recommendations and opportunities to buy/sell mutual funds, under one roof. Hence, enabling small business owners to drive impactful business decisions and generate returns from their idle cash, without wasting their crucial business hours juggling through cash flow spreadsheets.
Must Read: Here is your complete guide to small business wealth management
Ineffective business planning:
Small businesses sometimes also fail because of ineffective business planning. A sound business should include:
A clear description of the business
Skills required and management needs
Opportunities and challenges within the broader market
Capital requirements such as projected cash flow and budgets
Competitor analysis
Market initiatives
Business owners who fail to address these needs of the business with a well-laid-out plan set their companies to face serious challenges. Similarly, a business that does not adapt to changes in the market meets invincible obstacles throughout the course of its lifetime.
Creating a business plan and updating it according to current trends and market requirements is key to running a successful company for the long term.
Lack of investment plans:
To prepare your business for an economic downturn like the one brought by the current COVID19 pandemic, it is crucial to diversify your business wealth. We are not talking about diversification by opening a new business and investing in hiring a new team, while your one business is already in a growing phase. We are talking about diversifying your business wealth by investing in liquid mutual funds so that your money can continue to grow.
Supercharge your business wealth management and prevent your business from failing with Shootih.
Shootih is India's first platform that brings all the crucial aspects of business wealth management under one roof. The platform offers a consolidated, analytical view of business transactions, AI-based recommendations on how to invest idle cash, and access to all kinds of mutual funds best-suited for businesses, all in one place. Thus, enabling small and medium cap enterprises to understand cash flow patterns and invest the "idle" cash to grow their business wealth. The tool brings both long-term and short-term investment options which enable businesses to invest surplus cash even for a short period of weekends and holidays and get returns.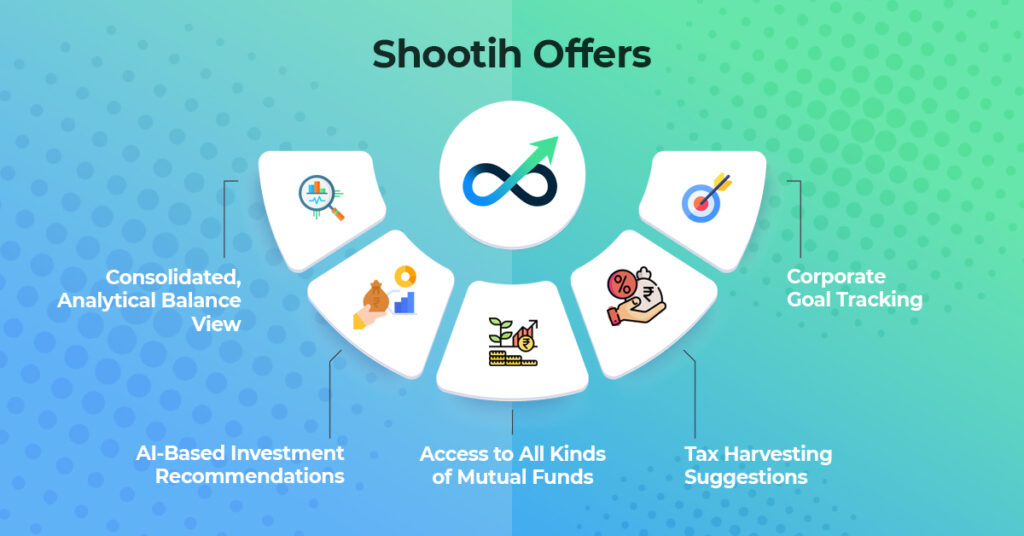 In addition to this, the web-based app also helps business owners to reduce their tax liability with tax harvesting opportunities and helps them keep a watch on their business with corporate goal tracking.
Key Features:
Monitors cash flow across multiple accounts and portfolios.
Provides AI-based recommendations to invest idle cash.
Offers mutual funds investment options best-suited for corporates.
Suggestions to save taxes through tax-harvesting.
Tracks corporate goals.