Are you one of the 61% of small businesses struggling to efficiently manage your cash flow?
If yes, then this guide is for you. According to a QuickBooks Study by Intuit, 61% of small businesses across the globe grapple with managing their cash flow and struggle to make payrolls, fulfill financial obligations, pay business expenses and keep the business running.
These stats clearly emphasize the importance of cash flow management for small businesses. Therefore, in this guide, we have covered every small detail that will help CEOs & CFOs coherently manage their cash flow.
Cash Flow: An Overview
Cash flow simply refers to the cash that comes into your business as income or revenue and the cash that leaves your business as an expense.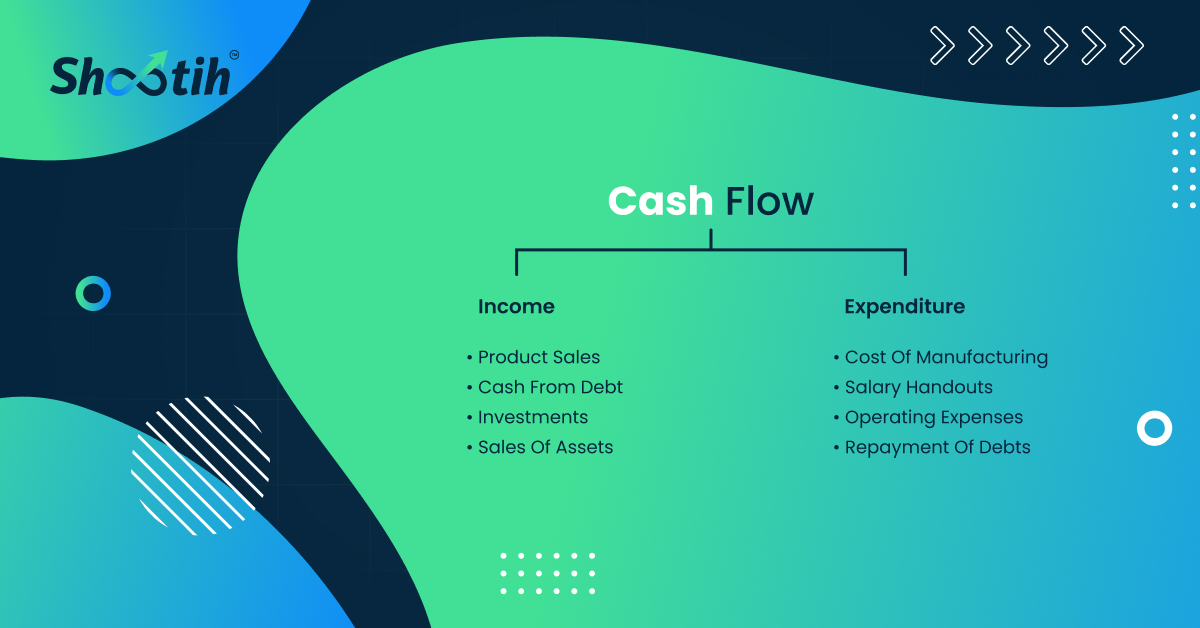 The business income includes:
Income from product sales
Income from services
Cash generated from debt
Investment in the company by shareholders or investors
Income generated from selling assets
The business expenditure includes:
Cost of making a product
Salary handouts
Operating expenses
Repayment of debts
Purchase of assets
Investments made outside the business
Cash flow management is the practice of tracking, recording and analyzing all the cash & cash equivalents that come in and go out of a business. Cash flow management gives a clearer insight into whether a firm has enough cash to uphold its regular operations for years to come or not.
If you want to read in detail about cash flow, you can refer to our blog "Cash Flow Management: The Art Of Managing Your Business Wealth"
Importance Of Cash Flow Management For Business Owners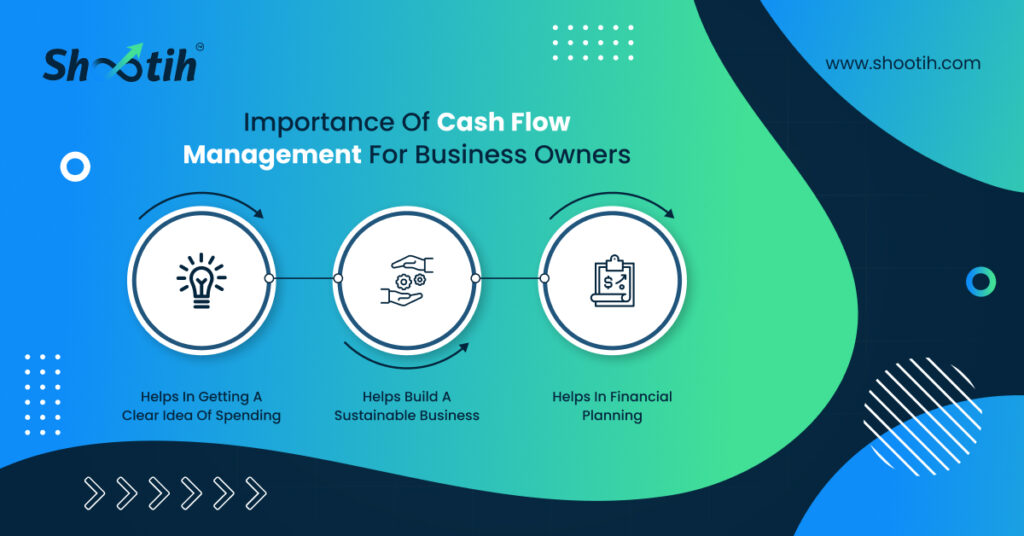 Cash flow provides an actual picture of where your business stands. The cash flow statement is treasured by analysts and value investors to analyze whether a business is growing or shrinking.
Cash flow usually has two aspects, positive and negative. While positive cash flow reflects that a firm is earning more than its spending and making some profit, negative cash flow is an indicator that a firm's expenses are surpassing its income and leading to losses.
Here are some of the reasons why cash flow management is important for CEOs & CFOs:
1. Helps In Getting A Clear Idea Of Spending:
Cash flow management gives CEOs & CFOs a clear idea of whether they can make profits or are incurring losses. Based on their cash flow statement, businesses can plan out their future operations, fulfill their financial obligations, take loans & pitch for investment to keep the business afloat or invest if they have any free cash.
2. Helps Build A Sustainable Business:
Every business aims at growth and cash is the catalyst to facilitate this growth. With cash flow management, you can easily identify positive & negative cash flow, take the right measures to reduce your expenditure and streamline your revenue streams and develop a sustainable business model.
3. Helps In Financial Planning:
Cash flow management provides a base for financial planning. A regular analysis & monitoring of your cash flow allows CEOs & CFOs to make sound financial decisions for their business. Cash flow helps in anticipating the upcoming expenses and helps businesses to avoid overspending. It also helps in identifying the idle cash that businesses can invest to grow their overall wealth.
To leverage the advantages of cash flow management, you need to properly anticipate the cash flow of your business. Following are the best practices for cash flow anticipation for CEOs & CFOs.
Best Practices For Cash Flow Anticipation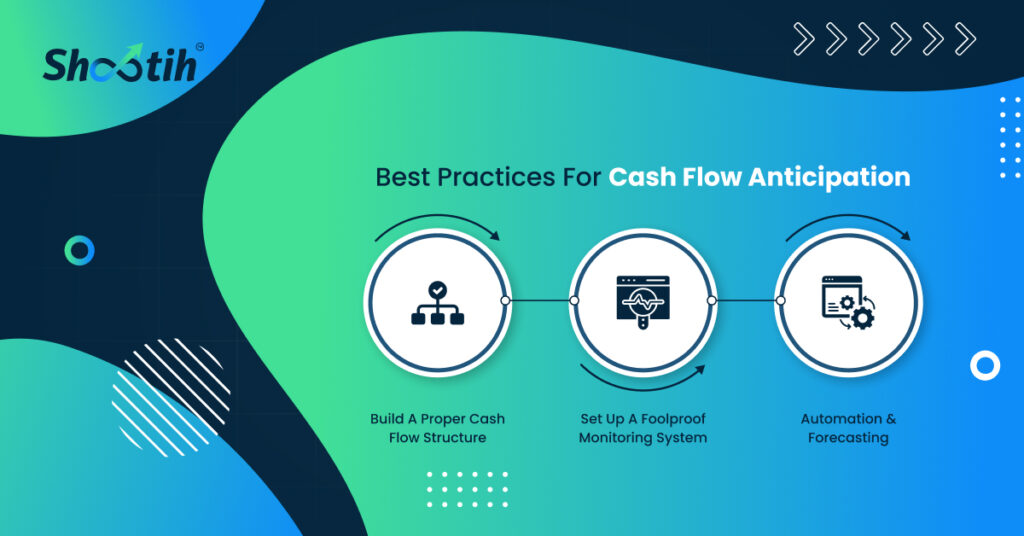 1. Build A Proper Cash Flow Structure:
Even though cash flow statements record all the income & expenses, you can chart out your main expenditure and revenue categories to better anticipate your cash flow. Based on this categorization, you can easily determine the due payments, realistic dates for the payment of your invoices & receipts, and how much cash you are left with after meeting all your obligations.
2. Set Up A Foolproof Monitoring System:
The next step is to have an efficient cash flow monitoring system in place. An efficient and reliable system reduces the scope of error while optimizing the whole process and keeping the manual activities to a minimum. A small business cash flow management tool like Shootih comes in handy for monitoring your cash flow & get an aggregated view of all your financial transactions from multiple banks in one place.
3. Automation & Forecasting:
Automation has multifold benefits; one of the most prominent is that it reduces the scope of human errors while decreasing the dependency on manual activities like tracking, monitoring and analyzing cash flow. Automating your cash flow management process will also facilitate better forecasting & planning. Shootih, an AI-powered business wealth management tool can easily help you automate your cash flow management.
While anticipating your cash flow, you will realize whether or not your company is in good financial health. Regardless of your cash flow condition, there are the following tips you can use to improve your cash flow/maintain positive cash flow:
Surefire Tips For Improving Cash Flow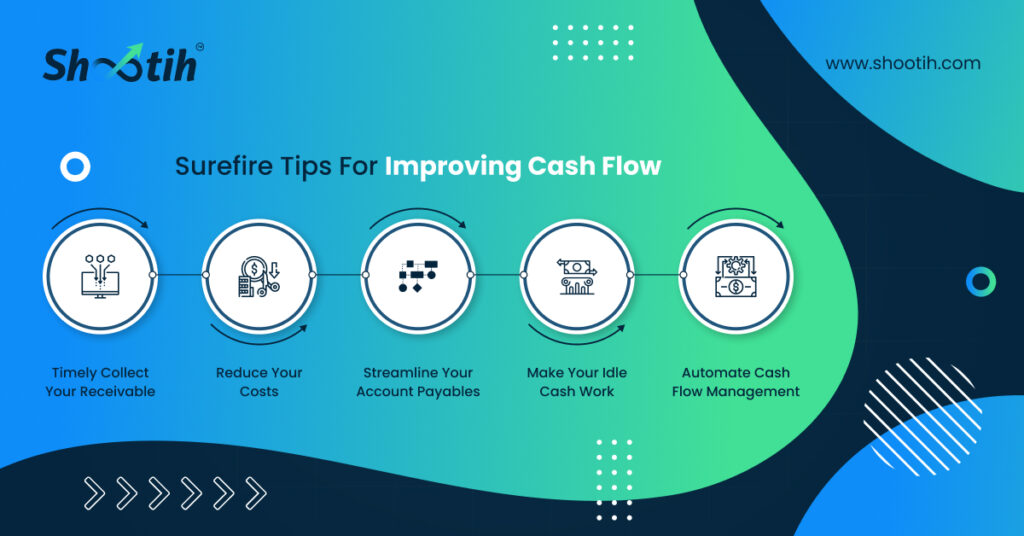 1. Timely Collect Your Receivable:
In a perfect scenario, you offer a product & customers pay for it immediately. But, the reality is that this perfect scenario doesn't exist. Usually, businesses don't receive upfront payments for their products & services. Therefore, a window is usually given to the customers to make payments. While giving a payment window of up to 15-30 days is a common business practice, you need to realize that for smooth business operations you need your invoices to be cleared timely. Therefore, CEOs & CFOs should encourage the customers to pay on time.
2. Reduce Your Costs:
A cash flow statement will show you how you are spending money. You can identify the unnecessary costs and discover optimal ways to reduce them. Here are some of the areas where you can save your cost; energy bills, paper & printing, travel allowance, electronic gadgets & equipment, etc.
3. Streamline Your Account Payables:
Another way to optimize your cash flow is by optimizing your account payables. You can invest in software to manage all your bills, expenses and payouts in one place so you don't have to go back and forth in your accounting books to keep track of your expenses. Automating the cash flow management process can help you avoid unpaid invoices slipping through the cracks. You can build good relationships with your vendors to get an extension of payment duration so that you can have more time to fill in your accounts.
4. Make Your Idle Cash Work:
Do you often have substantial cash sitting in your bank accounts in between regular transactions? Well, you put this idle cash to work and invite more wealth to your business. There are plenty of investment options available like short-term mutual funds where you can park your idle cash for smaller time frames like weekends and holidays. These mutual funds investments like liquid funds, overnight funds, ultra-short-term funds etc., are highly liquid and also generate fair returns.
Check out Short-Term Mutual Funds Investment Strategy For Businesses to know in detail about how you can make your idle cash work!
5. Automate Cash Flow Management:
Last but not least, automation can be extremely helpful for streamlining small business cash flow management. Technical advancements like AI can empower small businesses and change the way they manage their wealth. As a CEO, you must leverage existing technology to bring efficiency, transparency and reliability to your current financial system. What better way to do it than having a system in place that shows all your income and expenses, forecasts, identifies your idle cash situation, helps you collaborate with your team, etc.
Shootih: AI-Powered Tool To Simplify Cash Flow Management
As we said, there's no better way to leverage the technology than to have a tool that helps you manage your cash flow on a single dashboard. Shootih is an AI-based cash flow management tool revolutionizing the way small businesses manage their wealth. With Shootih, CEOs & CFOs can:
Get an aggregated view of your multiple bank accounts on a single dashboard.
Easily see & manage your income & expenses.
Get immediate notifications for any unexpected bills, overdue payments, or out-of-cash predictions.
Get AI-based suggestions for investing your idle cash over holidays or weekends.
Invite your financial advisors, CFOs, CA and other team members to collaborate on a single platform to ensure maximum transparency.