Last week we onboarded a new client Avinash, who was looking for short-term investment opportunities to make money through his idle cash. He generally holds a hefty amount of surplus cash in his account on weekends and between payrolls. As Avinash had plans of purchasing new inventory for his business in the next quarter, he thought of investing this extra cash in the meanwhile. He was searching for market instruments that can be liquidated within 3 months or so, and are less prone to market volatility.
We, at Shootih, suggested Avinash plan his short-term investment goals with liquid mutual funds.
If like Avinash, you are also looking to invest your idle-sitting cash for a short period, then read this guide to understand everything about liquid mutual funds –
What Are Liquid Mutual Funds?
Liquid funds are a type of debt mutual fund that invests in instruments like bonds, treasury bills, government securities, debentures, corporate FDs, commercial papers, etc. Liquid funds never invest in stocks (one of the riskiest financial instruments) and therefore they are one of the safest mutual funds instruments to invest in.
Liquid funds invest in financial securities that have a residual maturity period of up to 91 days. It got its name from the unique feature that other mutual funds fail to offer; liquidity. When you invest in liquid funds, you can withdraw your money whenever you want and it will only take 24 hours to process the request and see your money in your account.
This makes liquid funds an ideal investment option for emergencies as well as for the businesses that have excess capital that they would like to use in the coming days (just like Avinash). Since the maturity period is only 91 days, businesses can conveniently invest in liquid funds and withdraw the funds when an expense comes up.
How Do They Work?
The basic function of a liquid fund is protecting your capital by investing them into low-risk, short-term investments. The fund manager selects high-quality short-term funds with a maturity period of up to 90 days and invests the money in them. Because of their brevity, liquid funds are almost immune to the market volatility but still, there are certain things to consider while investing in them:
The Risk:
Liquid mutual funds have the following risks-
Interest rate risk:
The price of the liquid funds fluctuates with the fluctuation of interest rates. The interest rate is pre-determined by the regulatory authorities. If the interest rate increases in the future, the price of the bonds will drop.
Credit risk:
Credit risk is simply the risk of defaulting the interest payment by the issuer of the bond. The issuer of the bond usually promises a particular interest rate to be paid upon the maturity of the investment. If the issuer fails to pay the interest or the principal amount to the investors, then this comes under credit risk. A rating is given to each & every debt fund based on its financial stability & the possibility of default. Investors should avoid investing in securities with bad credit ratings.
Inflation risk:
As we all know inflation is constantly rising at a particular rate every year. When the rate of inflation gets higher than the rate of interest on bonds, the attractiveness of bonds eventually decreases. The investors realise that it's not worth investing in liquid funds with lower interest rates than the existing inflation rate. As a result, people disinvest, the prices of bonds fall & the NAV also decreases.
The long-term debt funds are especially more prone to inflation risk. Since liquid funds have a shorter duration, the inflation risk is also significantly lower.
The Returns
Returns are the major reason behind any mutual funds investment that we make. However, an important factor to consider in the case of liquid funds is that they are more like savings funds rather than any other equity investments that yield higher returns. Liquid funds offer more returns than the bank's saving accounts but way lesser returns than the equity funds. And this is directly related to the risk. Equity funds, although yield higher returns, they also have a higher risk. But because liquid funds never take as much risk by never investing in the stocks, the returns are also significantly less.
Expense Ratio
The next thing to consider is the expense ratio. The expense ratio is the cost deducted for the management of the fund's portfolio. The usual expense ratio of liquid mutual funds ranges from 0.10%-0.50%. While selecting the funds, it's pivotal to consider the expense ratio as the lesser fee we will pay the more it will add to our returns.
Investment Horizon
The investment horizon refers to the period for which you want to invest your cash. If you want to invest for a few days or a few months, then liquid funds are the ideal option for you. However, if you want to invest for a longer time, say 3 to 5 years, then you should rather invest in equity funds as they will yield you more returns.
These are some of the significant factors that one must consider when considering investing in liquid funds.
Why Should Businesses Invest In Liquid Funds?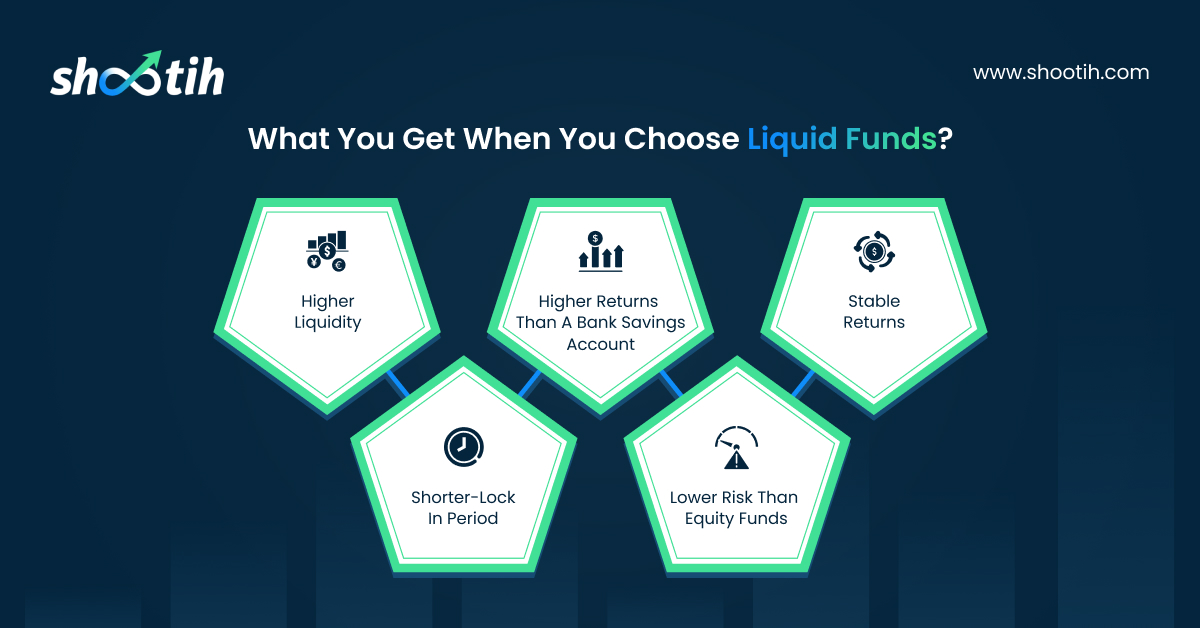 Now that we have explained how liquid funds work, let's answer a burning question; why should businesses invest in them?
Here are some of the reasons why liquid funds can be a good investment option for you:
A Great Savings Option:
Liquid mutual funds are a great option if you want to set aside some money to meet your short-term goals. Liquid funds are an excellent savings option and they give better interest rates than your bank's savings account. So if you have any goal for the next 2-3 months, you can set aside some money as an investment in liquid funds & enjoy fair returns on your investment.
Work As Emergency Funds:
Since liquid mutual funds are well, liquid, they work as the best emergency funds. Because of their liquidity, you can withdraw your investment whenever you want to. While other mutual funds usually take 3-4 working days to process your withdrawal request, you can withdraw your money in just 24 hours with liquid mutual funds.
Safer Than Equity, Better Than Bank Savings:
Liquid mutual funds are safer than equity mutual funds. Even though investors often get smitten by equity funds due to higher returns, they tend to overlook that these funds are equally risky. On the other hand, liquid mutual funds do not invest in stocks & therefore, carry way less risk than the equity funds.
Along with being safer than equity funds, liquid funds are also better than a bank's savings account. While banks usually offer 3-4% interest rates on savings accounts annually, you can easily earn 7-8% interest rates on liquid funds in 91 days!
These are some of the reasons why you can consider investing in liquid mutual funds. Before you start investing, you need to chalk out the goals you want to achieve through investment. Then depending on the nature of your goals, whether they are short-term or long-term, you can diversify your investment in different mutual funds portfolios.
If you have any short-term goals and you want to invest in liquid funds to achieve them, then Shootih can help you. Shootih is the wealth management & the best mutual fund investment platform for businesses & non-individual investors that offers AI-based recommendations for investing the business's idle cash into the multiple investment options available on our platform.
Learn how Shootih works, book a free demo call with our expert today.