Anyone, be it a business or individual that wants to invest in mutual funds, must be aware of the term KYC. Know Your Customer or KYC is a vetting process used by banks and other financial institutions like non-banking financial companies (NBFCs), asset management companies (AMCs), etc., to validate the customers' identities.
KYC is an essential practice followed by financial institutions. Apart from banks and financial institutes, all the SEBI registered intermediaries like registered mutual funds, registered alternative funds, registered stock brokers in the equity segment, and registered stock brokers in debt segments are required to conduct due diligence and risk assessment of their clients in the form of KYC.
In this blog, we will focus on mutual fund KYC for businesses and how Shootih can help you get a free KYC done
KYC For Mutual Funds Investment And Why Businesses Should Get It Done
KYC is essential for both individual and corporate mutual fund investors. In addition, it is essential to protect financial organizations and clients against spurious investment, money laundering, and other financial frauds.
The KYC process for mutual funds investment vets the clients to make sure that investments are taking place strictly as investments and not as fraudulent activities.
Investing excess corporate cash in mutual funds can be a great option for businesses to grow their business wealth. But getting your mutual funds KYC done is necessary to begin investing in mutual funds.
There's a separate KYC process for opening a bank account and mutual fund investment.
There are two ways in which you can get mutual funds KYC done:
Traditional Way Of Mutual Funds KYC
Businesses can complete their offline mutual funds KYC by downloading a form through the CDSL venture's website. The mutual fund industry authorizes CDSL Ventures Ltd. to conduct the KYC procedure.
You can download the form from the CDSLs website, fill it out, and attach all the required documents like proof of identity, PAN, and other documents as mentioned.
You can submit this form to the mutual fund house or the intermediary's office where you have chosen to invest.
This is the traditional process that is time-consuming, exhausting, and requires plenty of paperwork. While you might be intrigued to overlook KYC for being a time-consuming process, it is recommended that you spare some time and complete it as it helps ensure your business's safety and help you become compliant with government regulations.
If you are looking for a free and uncomplicated KYC for mutual funds investment, Shootih can assist you.
How Shootih Can Help With Mutual Fund KYC In 4 Simple Steps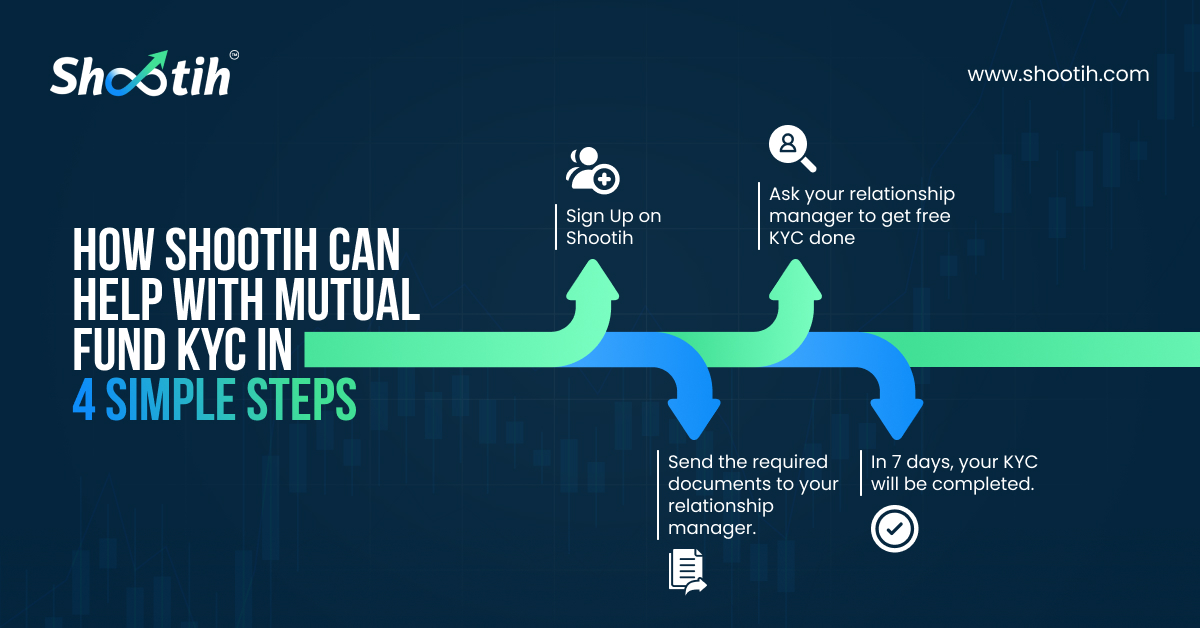 Shootih is India's first wealth management & mutual fund investment platform that helps business investors easily invest in various mutual funds based on their financial goals. The biggest perk, you can get your KYC done for free with Shootih!
Here's how you can get your corporate KYC done in a few simple steps with Shootih:
1. Sign Up on Shootih:
The first step for investors is to sign up and create an account with Shootih. Once you have registered yourself, there are countless insider perks you can avail of, including your corporate & mutual funds KYC.
2. Ask your relationship manager to get free KYC done:
Once you have created an account with Shootih, you will be assigned a relationship manager. You can ask your relationship manager to process your free KYC to facilitate your investments.
3. Send the required documents to your relationship manager:
Our relationship manager will provide you with a list of documents. You can self-attest and send the scanned copy of all your documents to our representative.
4. In 7 days, your KYC will be completed:
Once you have completed all the formalities and forwarded all the documents, your corporate KYC will be completed within the next seven days. Once your KYC is completed, we will notify you, and you can kickstart your investment journey with us!
So if you haven't done mutual funds KYC yet, get it done for free with Shootih. And when you are done, you can explore various mutual funds to invest your idle cash on Shootih. We are the best direct mutual funds platform that aims at making mutual funds investment easy for corporates, helping them identify idle cash, and having a wide range of equity, debt, and hybrid mutual funds to invest in.
Join our free mutual fund KYC campaign and start multiplying your business wealth today!