When inflation is in the news, it agonizes both consumers and businesses. If you are reading this blog, you must be aware that inflation refers to an increase in the prices of goods and services over a period of time.
With the growing economic activities, high-speed development, and increasing income, there's been a substantial increase in global inflation as well. According to financial experts, inflation is bound to grow as our economy grows & we unlock new dimensions in the market.
But if inflation is inevitable then why does it bother consumers and businesses so much? The actual trouble begins when the inflation rates become so high that it starts becoming a financial burden for consumers & businesses.
The following graph by Statista shows a year-on-year fluctuation in inflation rates in India from the year 1984 to 2026 (projected).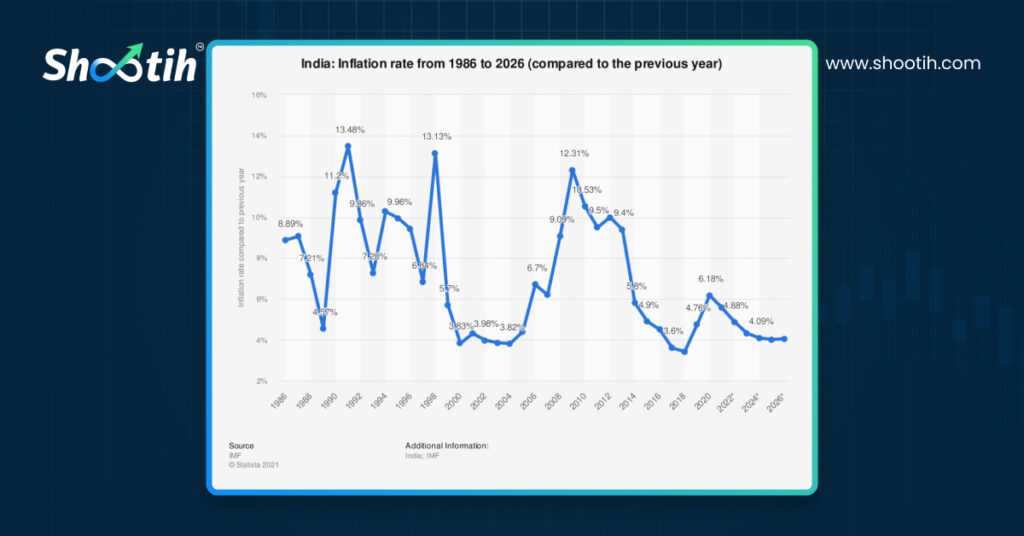 According to the Federal Reserve, an inflation rate of up to 2% is considered normal or mild. As soon as this rate goes above the prescribed 2%, the trouble begins for both consumers and businesses.
When inflation rates rise, the buying power of consumers decreases, resulting in a reduced flow of money in the economy. While the market giants & household names usually increase the price of their goods & services to cope with the inflation, small-scale businesses are the ones that face the adversity the most.
Reasons For The Current Rise In Inflation
The last two years, starting from 2020 to 2022 have witnessed the most outrageous event- COVID-19, the global pandemic. COVID-19 completely crashed the supply chains & distribution networks and the whole economy shattered down like a palace of cards!
This resulted in skyrocketing the prices of necessities, healthcare products & equipment, consumer goods and whatnot!
As if the global pandemic wasn't enough, the 2022 Ukraine-Russia war added more fuel to the fire. Crude oil prices have gone through the roof; steel, iron & other metals have become extremely expensive and the stock market bull crashed mercilessly!
The two of these events along with some other events shook up the world economy resulting in high unemployment, economic uncertainty and well, high inflation.
Is The Impact The Same On All Businesses?
The impact of inflation is not the same across the market, rather it depends on the size, industry, market, nature of product and services, demand, etc. For example, businesses that offer products & services having lower price elasticity of demand like everyday essentials including milk, grains, oils, etc., do not suffer as much from high inflation rate as the non-essential products offering businesses do.
The consumer usually cuts down the consumption of non-essential goods when the inflation rate rises.
Similarly, large-scale businesses usually find it easier to get through inflation as opposed to small-scale enterprises because of a lack of financial resources, a smaller supplier network, and a smaller market size.
Here's How Inflation Affects Small Businesses: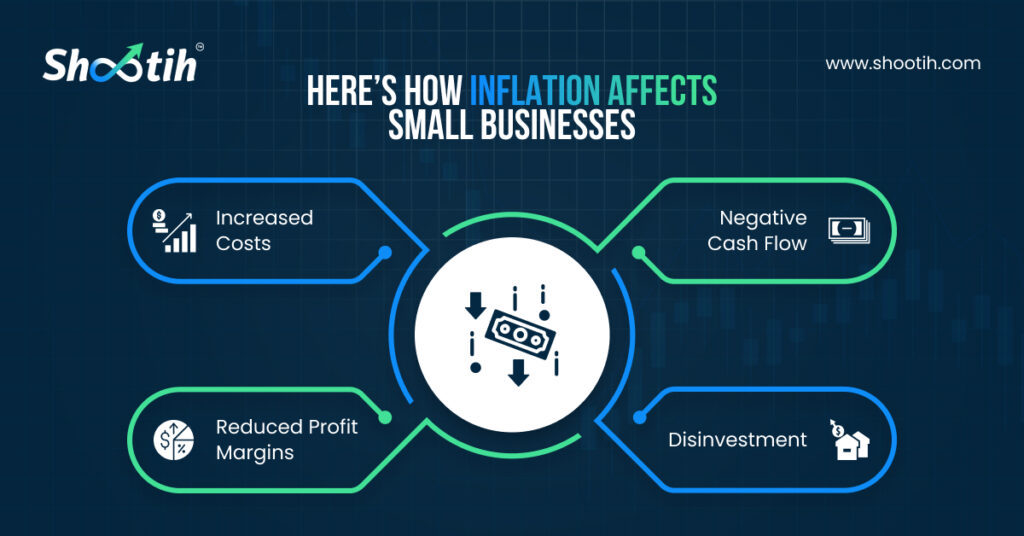 Increased Costs: From operations to supply, managing inventory & production, everything becomes expensive for small businesses. SMEs & MSMEs can't help but bear increased costs to continue to stay in business & serve their customers.
Negative Cash Flow: Due to increased costs, small businesses have no choice but to spend more money than they earn which results in negative cash flow. Negative cash flow is a scenario where businesses spend more money than they earn. As a result, businesses take loans or seek investments to stay afloat.
Reduced Profit Margins: An increased rate of inflation discourages consumers from purchasing goods and services and therefore businesses struggle to make money. With fewer articles sold, the profit margins of businesses become smaller and smaller.
Disinvestment: To deal with the inflation, small businesses often find themselves in a state of affairs where they have to disinvest by pulling out funds, selling assets, etc., to stay liquid and support their regular operations.
According to a survey by Business.org, 71% of small business owners have experienced at least a 20% increase in the cost of suppliers and other services ever since the Pandemic. The high rates of inflation can be a nightmare for small business owners, and preparedness is the only way for businesses to deal with high inflation rates.
How Businesses Can Prepare Themselves: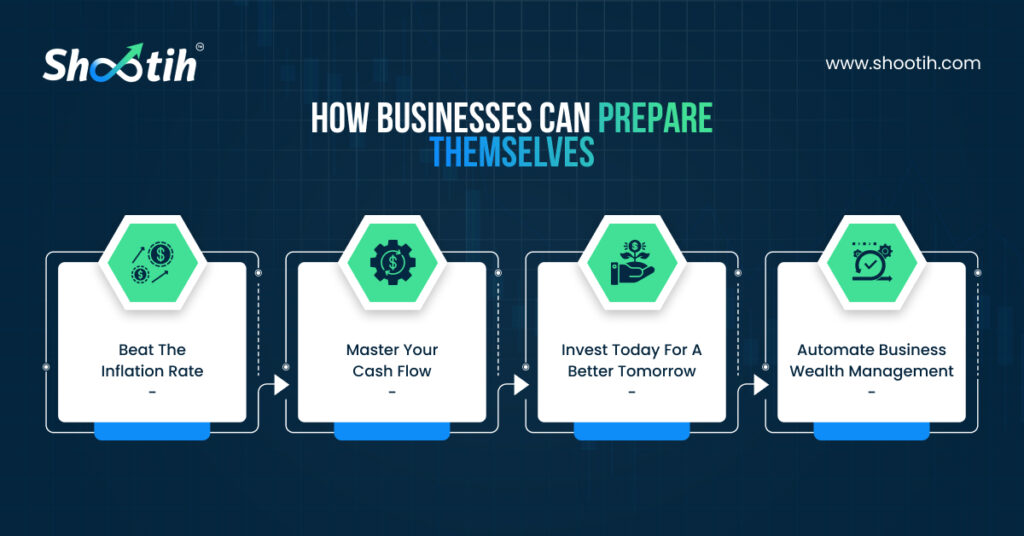 Even though a high inflation rate seems like a tough nut to crack, small businesses can use the following steps to keep it under control:
1. Beat The Inflation Rate
Based on the trends & insights of fluctuations in inflation rates over the past few years, you can predict an estimated inflation rate and prepare your income and expenditure accordingly. Beating the inflation rate is by far the best way to prepare for it. You don't have to be extremely precise while calculating the inflation rate, you just need to figure out the rough estimate based on past trends. Once you have the estimate, you can mold your financial efforts accordingly.
2. Master Your Cash Flow
For the businesses that are willing to survive inflation, cash flow management is extremely essential. Businesses need to bring more discipline into cash flow management to make sure their cash flow is as predictable as possible. When you master your cash flow, you can easily stay prepared to battle rising inflation rates in the future. You can use a cash flow management tool like Shootih to make the process more efficient, effective and transparent.
Must Read: Cash Flow 101: An Effective Guide For CEOs and CFOs To Manage Business's Cash
3. Invest Today For A Better Tomorrow
As a business owner, you must invest in assets & investments that will keep bringing positive cash flow to your business. You can invest in high-value assets or investment options like mutual funds etc. so that you can have good savings for rainy days. If you want to invest your money in highly liquid investments, you can go for short-term mutual funds like liquid funds, overnight funds, ultra-short-term funds, etc.
4. Automate Business Wealth Management:
Automation has become the need of the hour, especially for small businesses struggling to keep track of their financial activities and manage their business wealth. Unlike large enterprises, it's quite difficult for small businesses to hire a team of financial experts to manage their finances and safeguard them against financial instabilities like rising inflation. A wealth & cash flow management solution comes in handy to simplify the financial planning, predict cash flow & collaborate with the rest of the team.
These are four straightforward ways through which small businesses can prepare themselves for rising inflation. As the saying goes "precaution is better than cure", these four practices will help businesses not only deal with rising inflation, but also with future financial uncertainties.
Prepare Your Finance For Unforeseen Financial Challenges With Shootih
As we already discussed, automation is the way to go for small businesses. Shootih, an online wealth & cash flow management tool is facilitating digital transformation for small businesses. It is a tool that empowers SMEs & MSMEs through:
Easy access to multiple bank accounts on a single dashboard.
Simple cash flow overview, analysis & management.
Immediate notifications & alerts for any unexpected bills, overdue payments, or out-of-cash predictions.
An AI-based algorithm to predict your future cash flow position.
Mutual funds investment options to invest the idle business cash.
Easy collaboration with teams on a single platform to ensure maximum transparency.
To know more about Shootih, get in touch with us here: https://shootih.com/contact-us/