Sound business wealth management is critical to every business, no matter how small or big. Without a sure-fire business wealth management plan, even viable and profitable businesses fail.
According to Startup India, India has the 3rd largest ecosystem in the world, which means every year a boundless number of businesses originate. However, an IBM institute study finds that 90% of Indian startups fail within the first year of their inception. For most businesses, the reason for their demise is either lack of innovation or simply lack of cash. Poor cash flow management, lack of funding, ineffective business planning can also be the reasons why small businesses fail.
While the unique business model and the right tech stack can help you overcome the innovation part, this guide will help you with the cash flow and business wealth management challenges.
Sections of the guide –
We've divided the guide into 3 sections, each is designed to help you with small business wealth management –
Section 1: Managing and Tracking Cash flow.
Cash flow is defined by the money that moves in and out of your business over a specific period of time. This includes your "income" from customers or clients who avail of your services or purchase your products and your expenses such as rent, monthly wages, payment to supplies, inventory and more.
Cash flow is positive when you receive more income than your expenses – this is a must if you want your business to be operational. On the other hand, cash flow is negative when your income is less than your expenses. You might experience negative cash flow when you buy a new piece of inventory or payments from clients are due.
Cash flow is usually tracked over a period of a month, quarter or year.
Why is cash flow important for small businesses?
Cash flow is the lifeblood of every business, hence it is crucial to keep it flowing unimpeded. Essentially, cash flow is what makes your business buzz. When you have money put aside, it becomes easier to manage unexpected expenses and make timely payments. But when your cash only trickles in, that is when you are hit by cash flow issues.
One of the difficult periods for cash flow is when business is the initial years of business. While you are trying to get the right position for your business, you might not have enough clients or customers to support your expenses. That's why it is so crucial for small business owners and startups to consider cash flow situations from the outset and make sure you have financial cushioning in the form of investment returns or savings, while you wait for the money to gain the needed traction.
How To Never Run Out Of Cash?
Here is what you can do to make sure your business doesn't collapse because of a lack of cash: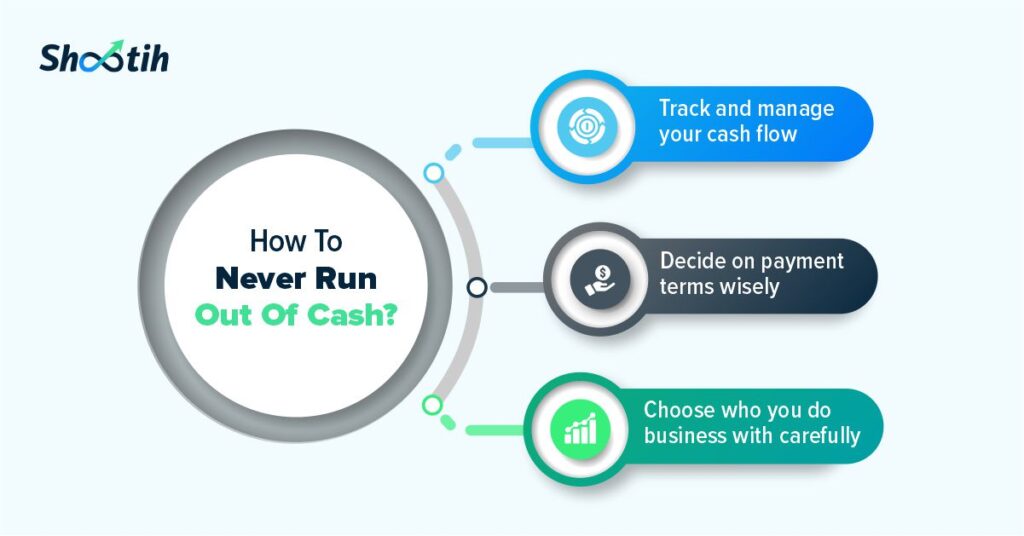 Track and manage your cash flow –
To make cash flow tracking and managing a less daunting task than wading through countless spreadsheets, you can use advanced tools such as Shootih. Shootih is an online wealth management tool to track, manage and grow your business wealth. Shootih offers a consolidated, aggregated view of all your business transactions on one single screen. Hence, you can always stay on top of cash flow and upcoming expenses.
Decide on payment terms wisely-
To make sure you never run out of cash, it is imperative that you choose your payment terms wisely. Many businesses that sell directly to customers receive payment immediately. For example, a restaurant owner is paid once the meal is finished, a cloth merchant is paid immediately after the retailer gets the stock.
However, businesses that sell to other businesses often have weekly, monthly or quarterly payment structures. "Buy now and pay later" can definitely help you in winning more customers, however late payments are one of the biggest causes of cash flow issues. Instead, you can encourage customers to pay you now by offering early payment discounts and charging interest on late payments.
Choose who you do business with carefully-
As a small business owner, you must be selective about your clients/customers and credit-check new prospects before you start working with them. Turning out new prospects based on the credit check is difficult, but this is the best thing you can do for your business.
For instance, what would be your cash flow situation if the customer refuses to pay for the order for which you have invested your month. You can take legal action to recover the money, but will again waste your time and can cost you a considerable amount.
Section2: Financial Planning and Forecasting:
Financial documents play a crucial part in small business wealth management. They offer internal tracking of revenue and expenses and prove the viability of the business to investors and finance providers. Staying on top of financial planning will also help you identify potential issues and allow you to make informed decisions.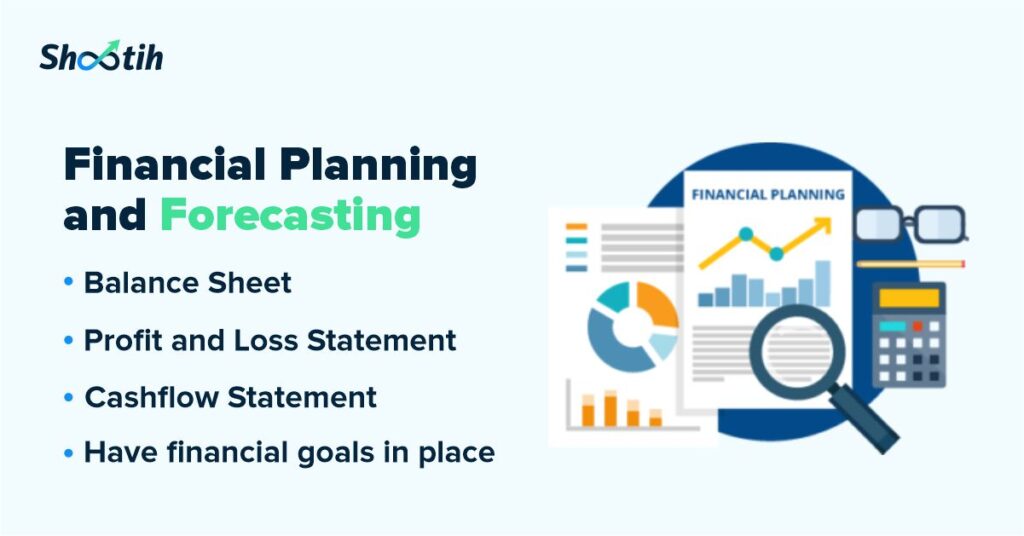 Balance Sheet-
The balance sheet provides you with the business's financial standing at any point. A balance sheet includes three parts –
Assets – The things the business owns (buildings, vehicles, machinery etc.)
Liabilities – The money that your business owes (debts to suppliers, bank loans etc.)
Equity – The amount that you have invested in the business.
These three pieces can be used to calculate the net worth of your business at any point in time. A balance sheet gives third parties such as the bank and prospective investor a clear understanding of your business financial situation.
Profit and Loss Statement –
A profit and loss statement is a summary of business revenues and expenses over a course of time. Using these figures, you can calculate your net profit or loss over a period. Maintaining a profit and loss statement helps in determining profitability over time and also defines your breakeven point (revenue that you must earn to cover the total expenses of the company).
Cash Flow Statement –
We've already discussed how cash flow can make or break the financial health of your business. For that reason, a cash flow statement is a document you should be creating and maintaining.
As mentioned above, with Shootih – wealth management tool, you do not need to have any cash flow statement as you can have a look at the aggregated view of all your business transactions with just one click. Why have your cash flow distributed in different documents and spreadsheets, when you have a glance at it on one single screen with Shootih.
Have financial goals in place –
Going through the process of building a financial plan is not only a crucial but valuable exercise for every business owner. The financial plan helps in guiding the day-to-day decision making and helps you navigate through the economic crisis.
Here is how having financial goals in place helps you –
Financial goals help in ensuring a reasonable balance between inflow and outflow of funds so that stability is maintained.
Financial planning ensures that you are investing in the company to grow your business wealth.
Reduce uncertainties with regards to changing market trends as you will have enough funds to keep your business afloat.
Ensures the stability and profitability of your business.
Must Read: 5 wealth management strategies to strengthen your business in an economic downturn
Section3: Investing Business's Surplus Cash
There are several good places to keep your business's cash when it is not being used. And checking accounts is definitely not one of them. Surplus business cash should be invested to reap the benefits of compounding over the long term. Here is why should corporates invest in mutual funds?
Now, the question is where to invest the business's idle cash? According to the current market situation, mutual funds are the best investment option for corporations. According to the Association of Mutual Funds in India, the MF industry's AUM has grown from Rs 15.8 trillion as of July 31, 2016, to Rs. 35.2 trillion as of July 31, 2021, which is a more than 2 fold increase in the time span of 5 years. Moreover, investing in mutual funds helps you diversify your business's wealth by putting your idle cash in financial instruments that are already growing.
Not only this, you can even earn up to an appreciable amount of returns by just parking funds over weekends and holidays? So, if not for the long term, you can invest the idle cash in mutual funds for the period your next expense is due.
Track, Manage and Grow Your Business's Wealth With Shootih
Shootih is India's first online wealth management tool for small and medium scale businesses. The tool enables business owners to –
Get a consolidated view of all their business transactions on a single screen.
Invest business's idle based on the AI-based recommendations
Buy all kinds of mutual funds, best suited for corporates and sell from the platform
Save taxes with tax-harvesting opportunities
Track corporate goals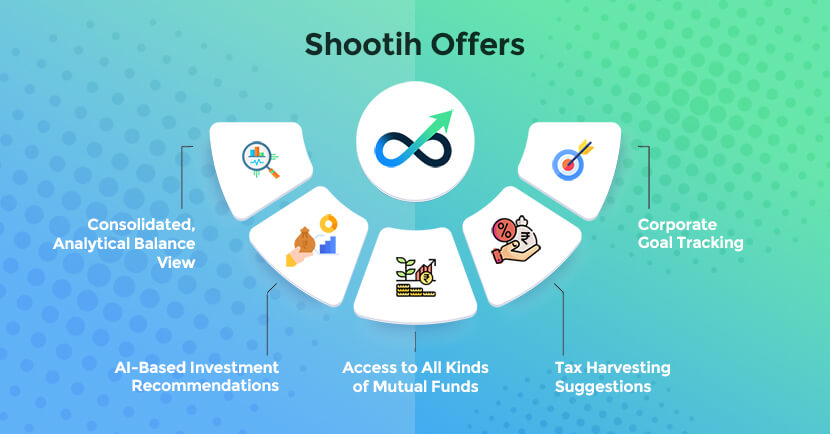 Hence, you can say that Shootih brings all the crucial aspects of small business wealth management under one umbrella.
Why wait then? Book your free demo to see how Shootih can help you overcome those cash management spreadsheets and investment challenges.