Mutual funds are emerging as a preferred investment option amongst retail investors and corporate investors alike, owing to the convenience of investment and professional fund management benefits. However, in our everyday lives, whenever we plan to make a significant investment purchase, say a car or a bike, we do detailed research, look for the best available options in the market and then make a list of top available options. This knowledge helps in making the right buying decision.
The same should be applied to mutual funds. Although you can definitely head to a mutual funds investment platform and start investing in the top-performing mutual funds, it is always recommended to be aware of a few things to enjoy a rewarding investing experience.
Here are a couple of tips to assist you in the journey of mutual funds investments –
1. Different categories have different risks – do thorough research:
A lot of mutual fund investors believe that mutual funds are risk-free investments. That is not completely true. The risk associated with mutual funds varies from category to category. For example, equity mutual funds have lower risks in comparison to direct equity funds.
However, mutual funds investments include professional fund management and diversification, which makes them safer investment options compared to stocks.
Still, it is always recommended to do your own research while investing in mutual funds. Before investing in mutual funds, you should always check parameters such as risk tolerance, investment horizon, return expectation, past performance, expense ratio, etc. Though the mutual funds investment platform provides you with the best-performing funds as investment options, conducting a certain degree of research before investing will help you make informed decisions.
2. Have a clear picture of your financial goals –
To gain maximum returns from mutual fund investments, you must have a clear picture of your financial goals. For business owners, who are planning to invest their idle cash in mutual funds, it is always advisable to set their financial goals and then decide the investment period. This is to make sure that you do not run out of cash when you have rent or salaries to pay.
3. Understand and analyze different mutual funds schemes –
Mutual funds are usually categorized into investing style, the objective of investment, asset classes, and more. It is good to get an idea of different mutual funds schemes to invest in the right types of funds.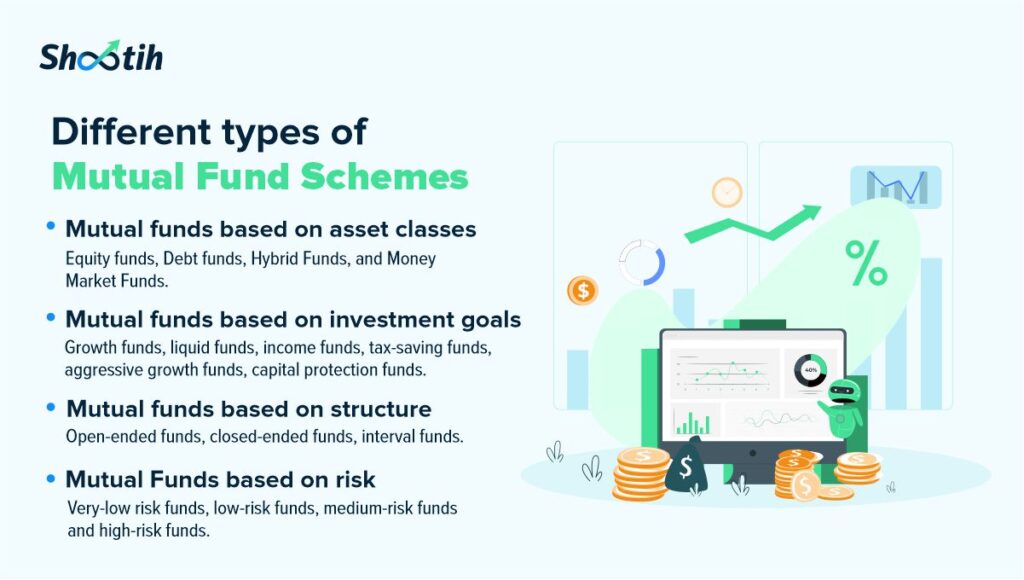 Different types of Mutual Fund Schemes –
Mutual funds based on asset classes –
Equity funds, Debt funds, Hybrid Funds, and Money Market Funds.
Mutual funds based on investment goals –
Growth funds, liquid funds, income funds, tax-saving funds, aggressive growth funds, capital protection funds.
Mutual funds based on structure –
Open-ended funds, closed-ended funds, interval funds
Mutual Funds based on risk –
Very-low risk funds, low-risk funds, medium-risk funds, and high-risk funds.
4. Build a diversified portfolio –
In the whole spectrum of mutual funds portfolio creation, the twin goals of minimized risk and maximized returns can be achieved only through diversification of Mutual Funds portfolio. Apart from assisting in managing the risks, diversification also aids in other aspects such as investment horizon and financial goals.
Hence, by building a diversified mutual fund portfolio, investors can fulfill not single but multiple goals such as addressing various liquidity requirements, striking the right balance between risk and return, and most importantly, remaining well-positioned in varying market phases.
5. Don't forget to get an understanding of tax laws –
When it comes to investments, a Rupee saved is a Rupee earned. Thus, when you analyze the profit margin and risk potential associated with mutual funds, don't forget to check the tax liability. Here are a few tax laws you should be aware of when investing in mutual funds –
Short term capital gains –
Short-term capital gains refer to gains earned from assets owned for a year or less. Short-term capital gains are subjected to taxation as ordinary income.
Long term capital gains –
Long-term capital gains refer to gains earned from assets for more than one year before they are sold. Long-term capital gains are taxed according to graduated thresholds for taxable income at 0%, 15%, or 20%.
Deductions under section 80D –
Equity Linked Savings Scheme, also known as ELSS and other tax-savings equity funds allow you to deduct up to Rs. 1,50,000 in a financial year by investing the equivalent in ELSS with a minimum lock-in period of 3 years. In this case, you not only get a tax advantage on the invested amount but also on the capital appreciation.
6. Know When To Exit –
It is important for an investor to understand the right time to exit the mutual funds. As soon as the market goes on a downward trajectory, several investors exit mutual funds, which is not a recommended practice. Here are a few signs that you should exit from a mutual fund –
When you have achieved your goal from the fund.
When there is a change in investment objectives of the fund and that does not meet your expectations.
When the fund is continuously performing poorly.
Grow Your Business Idle Cash – Invest It In Mutual Funds With Shootih
Shootih is India's first business wealth management platform for SMBs and MSMEs that brings all the crucial aspects of business wealth management under one roof. Shootih offers access to all kinds of mutual funds best-suited for corporate investments and helps you make confident investment decisions with AI-based recommendations. Not only this, but the platform also offers a consolidated, analytical view of all business transactions on one single screen.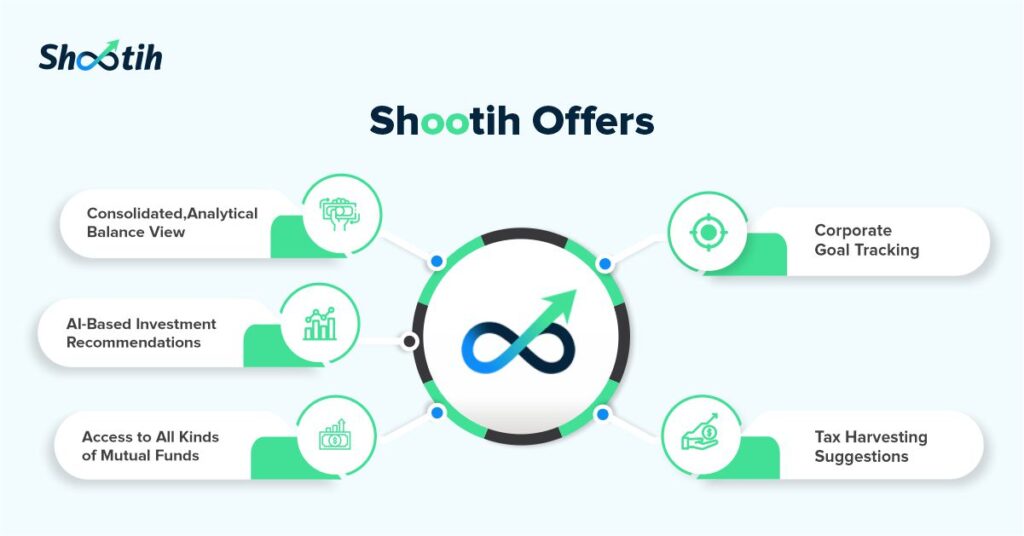 The tool aids business owners of SMEs in understanding the cash flow patterns and growing their idle cash by investing it in mutual funds. The mutual funds investment platform for businesses brings investment options that enable business owners to invest their surplus for a short period of time like weekends and holidays.
To know how Shootih works, book a free demo call with us.