Shootih is proud to be a part of the 29th Convergence India Expo held from March 23 to 25, 2022 in Pragati Maidan, New Delhi. This three-day expo was a great learning experience for team Shootih as we interacted with some of the eminent members from across the industries and successfully showcased our unique AI-based wealth management platform for businesses.
We are so excited to share our exhilarating experience of attending this wonderful expo, but before we expand further into our experience, here's a little introduction to Convergence India Expo:
About Convergence India Expo
Established in 1992, Convergence India Expo is the most influential expo, aimed to redefine the country's digital landscape. This was the 29th edition of the Convergence India Expo in association with the India Trade Promotion Organization (ITPR) and Exhibition India Groups. The Convergence India Expo is simply the largest technology and infrastructure event in India that gives a platform to industry leaders to come together and explore the latest digital trends and disruptions impacting various industrial sectors in India.
Convergence India Expo 2022 Highlights
Convergence India Expo 2022 anchored a plethora of next-generation technologies. The expo supported the government's vision and initiative of transforming India into a digital economy.
On the last day of the expo, the Smart Cities India awards and Fintech Innovation Awards were presented. It was an exhilarating three days event that hosted more than 800 brands and 100+ startups.
Event's Goal
The Convergence India Expo aimed to bring the latest technology innovations and trends from the sectors like telecommunications & Mobile, Broadcasting & Digital media along with various emerging technologies and enterprise solutions under one roof.
Chief Guests
Many prominent leaders, union ministers, state ministers, and executive directors of Smart City projects were invited as the chief guests to the Convergence India Expo 2022. Some of the prominent dignitaries included Mr Nitin Gadkari (Union Minister, Ministry of Road Transport and Highways, Government of India), Mr Rahul Kapoor (Director, Ministry of Housing & Urban Affairs, Government of India), and Ms Anju Bhalla (Joint Secretary, Ministry of Science and Technology, Government of India).
A Glimpse of Shootih's Booth
How It Went For Us:
Day 1:
Many experts and industrial leaders walked into our booth and had some meaningful discussions about our business wealth management solution on day 1, giving a kickstart to our expo's journey. One of the key highlights from our day 1 at the expo was an interaction with Mr Varun Rattan Singh, CEO, Development Logics Pvt. Ltd. We discussed in detail how advanced solutions like Shootih can help businesses make more profits and overcome cash flow management challenges.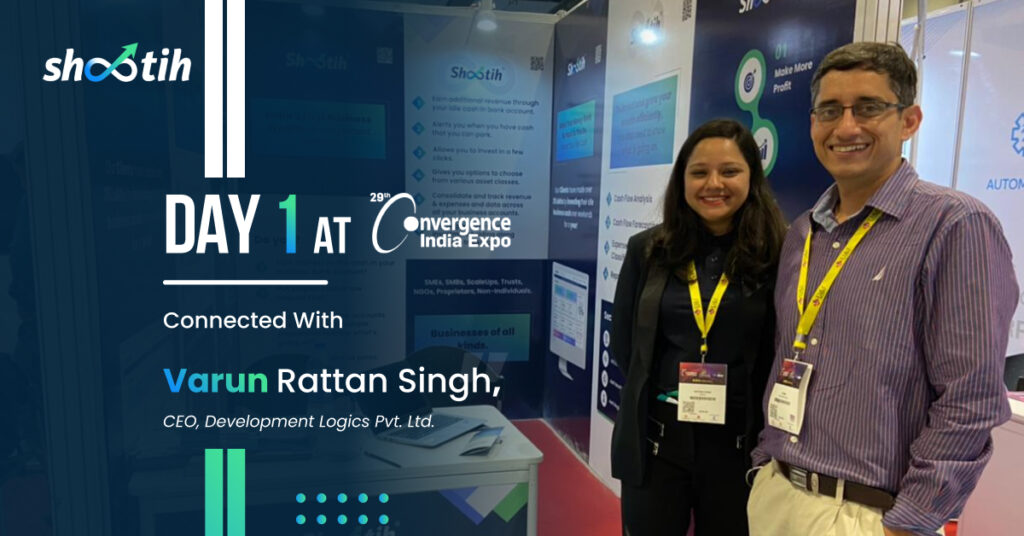 Day 2:
The second day was no less exceptional. In this larger than life event, we experienced pathbreaking technologies and innovations from across India. We met some of the most amazing entrepreneurs from different industrial domains and discussed various wealth management-related challenges and how Shootih can contribute to resolving them.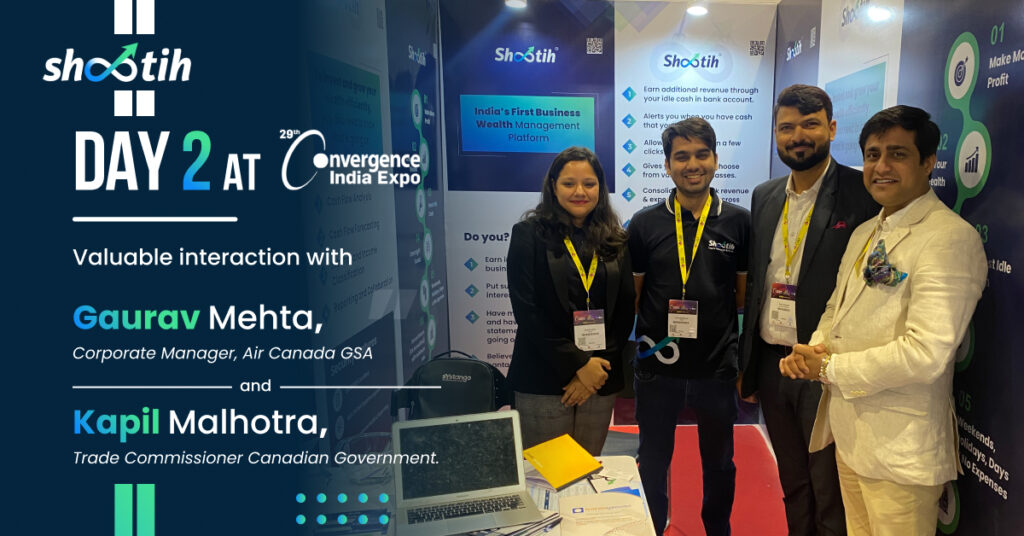 Day 3:
By the third and the final day of the Convergence India Expo 2022, we learned so much about the various technologies, industries and present challenges. On our last day, we got the opportunity to interact with Mr John IB, Business Development Manager at Business Gateway International LLC and add him to our list of valuable connections. We were also felicitated by a participation certificate from IndiaSoft.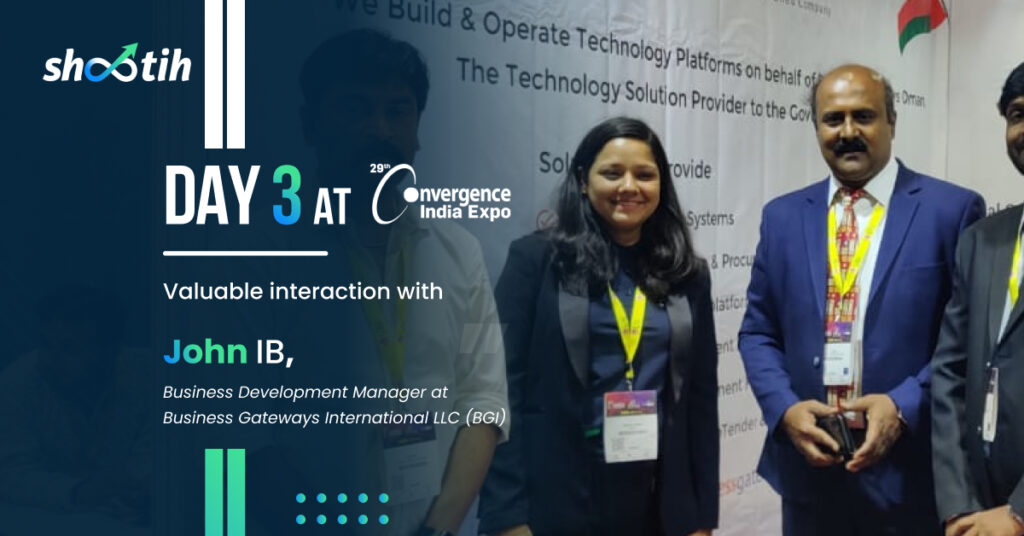 Our participation in the Convergence India Expo 2022 has been a huge success. We interacted with more than 200 people and successfully pitched our solution to more than 100 people, including some of the industry leaders. After spending three spectacular days, we came back with valuable contacts, new learnings and an experience for a lifetime.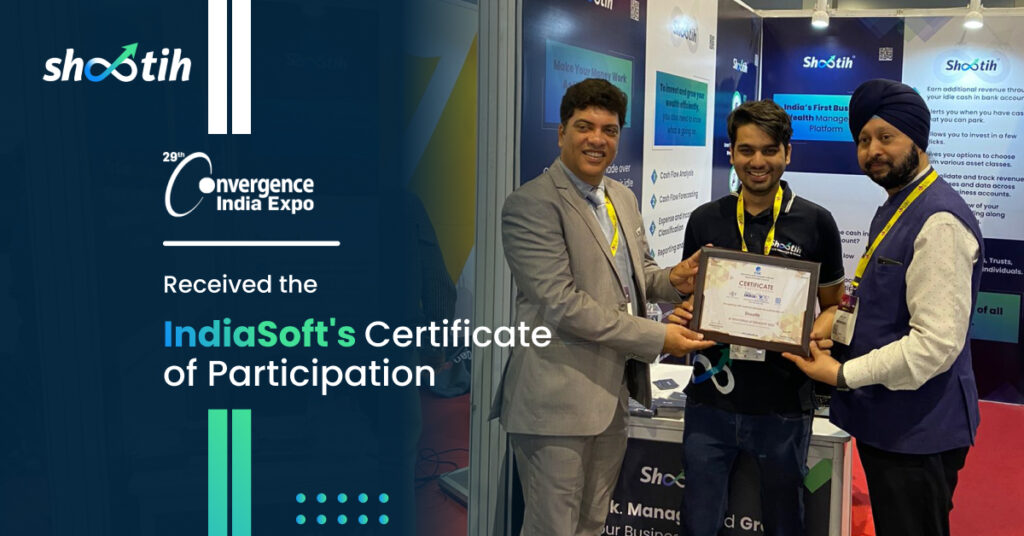 About Shootih:
Shootih is a wealth management platform for businesses. It is India's first online wealth management platform for businesses and corporates that provides a consolidated view of multiple businesses transactions on a single screen, AI-based recommendations to invest idle cash and also offers access to mutual fund schemes that are highly relevant to corporate investments. This revolutionary tool simplifies business wealth management challenges and enables business owners to focus on the core of their business.