Mutual Funds in India are getting the eyeballs of both retail investors and business owners. Not only companies with large surpluses, but mid-caps, as well as small scale businesses, are increasingly investing their surpluses in mutual funds.
If you are also planning to make a fortune out of your idle-sitting business cash with mutual funds investment, then you are at the right place. Before you begin investing, this guide will help you understand the basics of mutual funds and how mutual funds work?
Let's dive straight in –
What are mutual funds?
A mutual fund is an investment scheme that collects or pools money from various investors and uses the pooled funds to invest in the stock market. Assets such as bonds, short-term debt, equities and stocks are examples of financial instruments of what mutual funds invest in.
Mutual funds can be actively managed or passively managed. In an actively managed mutual fund, experienced manager and management team make decisions to invest the fund corpus. On the other hand, passively managed mutual funds simply follow the market index. In the latter case, there is no management team to make investment decisions.
The investment objective of a mutual fund defines the type of securities in which the pooled money will be invested. For instance, if you have a long-term investment goal, then you can invest in stocks of large-cap funds that hold a history of providing reasonable returns year after and year. On the other hand, business owners who don't know when a sudden unexpected expense may crop up can invest their idle cash for a short period of time like weekends and holidays. Mutual funds investment platforms for corporates like Shootih provides you access to long-term ElSS Funds as well as short-term overnight funds. Find the best investment opportunities with Shootih and begin generating revenue from your idle-sitting cash.
How Do Mutual Funds Work?
As we mentioned earlier, mutual funds collect money from different investors, which is invested in government securities, shares and bonds. Each mutual fund scheme comes with a strategy that is set at the time of the New Fund Offer or NFO. And, the fund works on this predefined strategy. Beginning from the launch of NFO to distribution, the mutual funds' cycle is divided into the following 4 steps –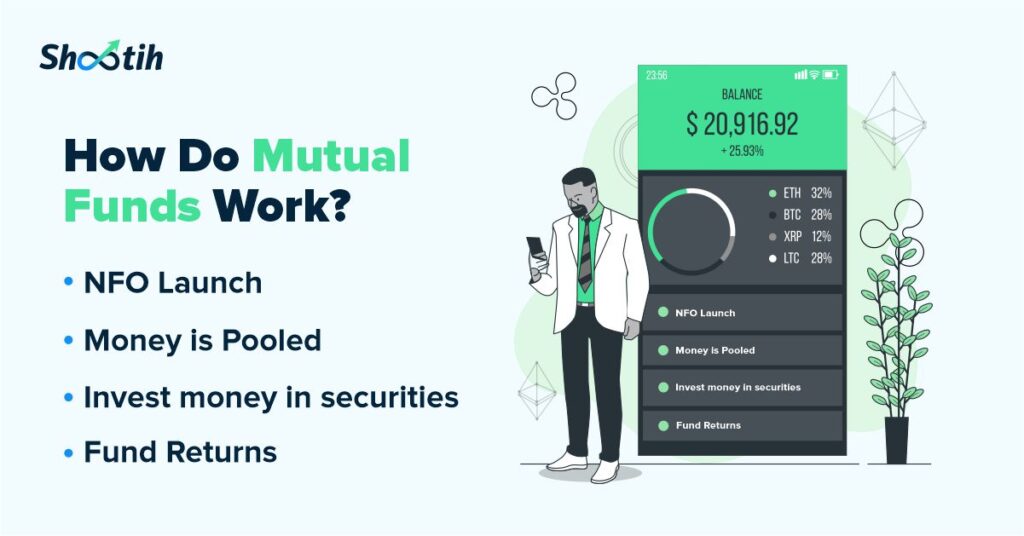 NFO Launch –
When a New Fund Offer is launched, investors get an opportunity to invest in the mutual fund scheme from its inception. The fund strategy is unfolded during the launch of the NFO and once the fund strategy is fixed, it cannot be changed. It is because the investments are made based on the strategy. While investing in NFOs, investors need to consider the reputation of the fund house, minimum subscription amount, cost of investment and the investment tenure to avoid risk.
Money is Pooled –
The next stage is to pool money from different investors. Investors, who are business owners, can invest their idle sitting cash in large portfolios, which they otherwise cannot.
Invest money in securities –
The pooled money is invested in securities such as bonds and shares. The fund manager then finalizes the portfolio of the fund based on its strategy. The portfolio manager performs a thorough analysis and research of the securities. They also perform industry, company and economy level analyses. They find out the securities that best fit with the fund's strategy and bring out the best returns for the mutual fund investors. At any point in time, if the selected securities are underperforming, they change it with the better-performing shares and bonds. In some cases, they also use multiple strategies to choose the securities for a fund.
Fund Returns –
The portfolio manager continuously endeavours to earn returns from the investments they have made. All the efforts they put into mutual fund research, monitoring and rebalancing enhance the Net Asset Value of the fund. Once the fund makes returns, they are either distributed to the investors or invested back into the fund. The returns, if retained in the fund, are invested further to bring more profits to investors.
Factors To Consider Before Investing In Mutual Funds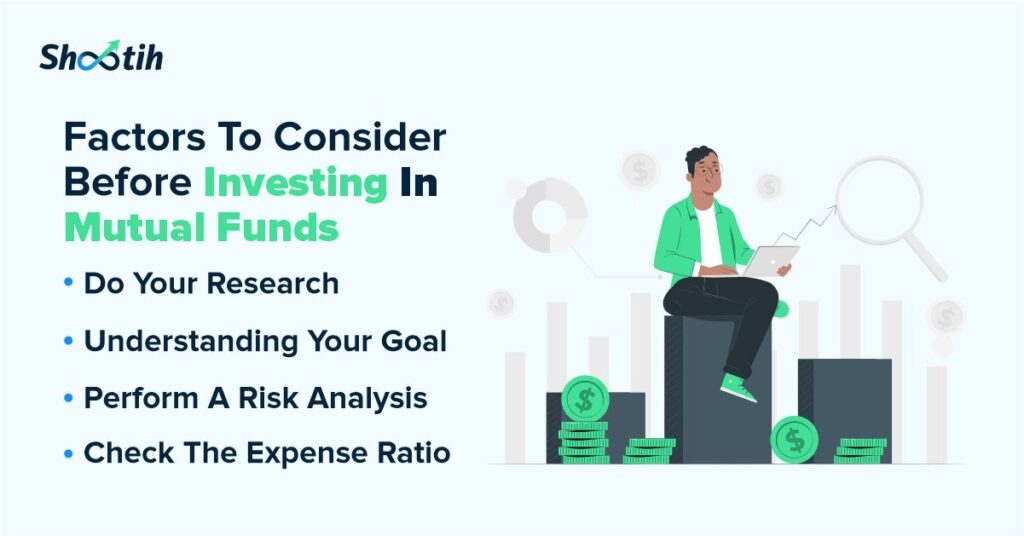 Do your own research –
When it comes to picking the right mutual fund for your investment goals, there are factors to consider – risk tolerance, return expectations, investment knowledge, investment horizon etc. Also check the past performance of the mutual fund, expense ratio, assets under management (AUM) and more. A certain degree of research before making an investment decision will help you make a confident choice and also help you to get a clear picture of "what is what" in the mutual fund space.
Understanding your goal –
Before choosing a mutual fund, the first step is to fix your financial goals – the time frame you want to make an investment for, return expectations and more. This will help you pick the mutual fund that is best suited for your requirements.
Perform a risk analysis –
This applies to both the scenarios – firstly the risk appetite of the investor and secondly the risk that comes with each kind of mutual fund and whether it is aligned with your risk tolerance.
For example, equity mutual funds hold a high degree of risk, however, the return of equity funds is higher than other funds, making them suitable for investors who are ready for a high-risk high-reward approach.
Check the expense ratio –
The expense ratio is the commission charged for the management of mutual fund investments. As an investor, you should always look for a mutual fund that comes with a lower expense ratio as the expense ratio is calculated by the investor's portfolio and will have a significant impact.
Potential Benefits Of Investing In Mutual Funds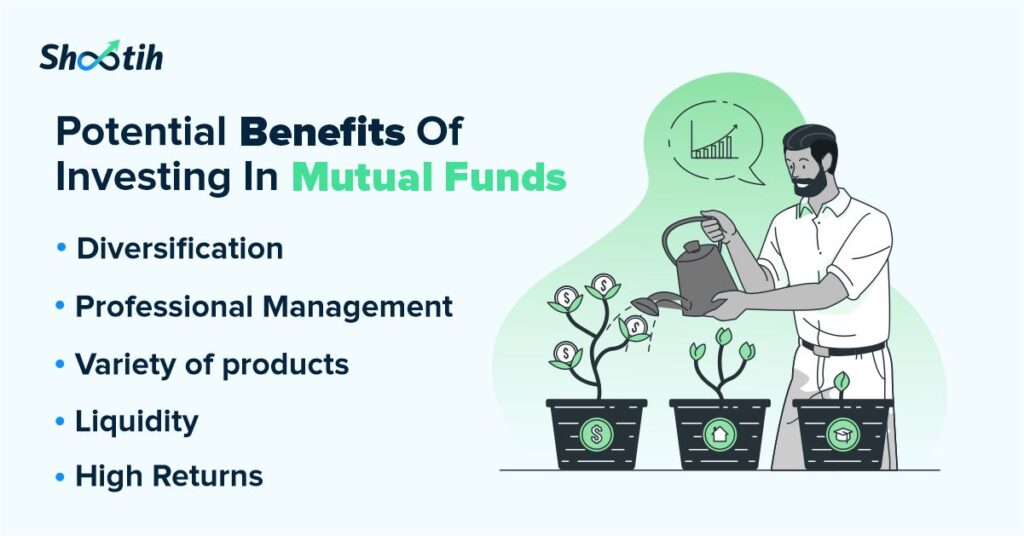 Diversification –
One of the most prominent benefits of investing in mutual funds is diversification. Diversification aids in reducing the risk associated with different asset classes by creating an assorted portfolio that segregates the headwinds experienced in various industries.
For example, an equity-based mutual fund comprises 60-70% in equities and the rest 30-40% in debt funds. Hence, you don't lose out on the entire value of the investment if part of your portfolio goes through a rough period.
Professional Management –
Business owners do not have enough time to conduct the research of individual stocks. This is where professional management comes to aid. A fund manager consistently analyzes and monitors the portfolio, and adjusts it accordingly to meet the objectives of the investment.
Variety of products –
With mutual funds, investors get options to invest in a variety of products that align to risk portfolio and investment objectives. Equity funds, liquid funds, debt funds, hybrid funds and tax saving schemes are some of the mutual funds' investment products available to meet your requirements.
Liquidity –
If you have idle sitting cash but you want to invest for the short term, then you should definitely invest in liquid mutual funds. If there are urgent cash requirements anytime in the future, you can consider short-term investment plans with liquid funds and enjoy great returns. The significance of liquid funds is that you can access them easily and utilize them when you experience financial bumps.
High Returns –
No doubt, savings accounts and fixed deposit accounts are comparatively safer than mutual fund investments. However, the interest rates on these investments are low. On the other hand, with mutual fund investments, you can achieve more returns, even by investing your money for shorter periods of time.
Invest Your Business's Idle Cash In Mutual Funds With Shootih
Shootih is the best mutual fund investment platform for corporate investors. Shootih provides access to all kinds of mutual funds best-suited for corporate investments. The tool offers a 360° view of all mutual fund holdings and enables you to invest with a single click. The tool notifies you when you have idle sitting cash in your account and provides you with AI-based recommendations to invest it in the best available mutual funds opportunities. In addition to this, Shootih also provides you with a real-time view of all your business transactions on one single screen.
To see how Shootih works, book a free demo call with us – https://shootih.com/contact-us/